September 26, 2022
Every lodging property has the same challenge and the same goal: filling rooms. But in a crowded marketplace, it's becoming increasingly difficult to boost your hotel's visibility to stand apart from the competition.  
To help, we offer hotel advertising solutions likeAcceleratorthat advertisers use to have their hotels appear higher in traveler search results. And it's easy to increase your property's visibility Accelerator is easy to use, cost-effective, and flexible. It only takes a few minutes to set up your campaign and our pay-per-stay model helps protect your bottom line.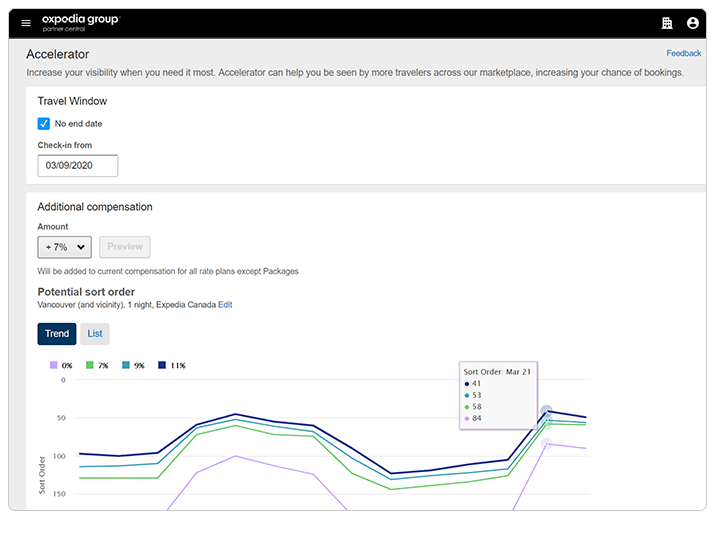 How to use Accelerator
Select targeted stay dates
The first thing you need to do when creating an Accelerator advertising campaign is to select your targeted stay dates. If you want consistent visibility, you have the option to keep the end date open.  
Pro tip: Select dates where your occupancy is the lowest or when you expect there to be a lull in rooms booked, like the off-season or mid-week. Using Accelerator to target these dates can help ensure that you're optimizing visibility with travelers when you need it most.  
Select a compensation level
The next step in creating your Accelerator is to select the amount of compensation you want to use for your campaign. The beauty of this solution is that you can market your hotel on a limited budget. This pay-per-stay model is also customizable and allows you to preview the potential impact on your sort order before you commit.  
Pro tip: Use a compensation amount that fits your business' needs and goals. If you only want to fill a few rooms, you can take a more conservative approach. If you want to ensure your listing is seen to encourage travelers to book on specific dates, use a more aggressive approach. The preview tool can help you better understand how different amounts can impact your position in the search results. 
That's it — you've created an Accelerator campaign and are on your way to reaching more travelers.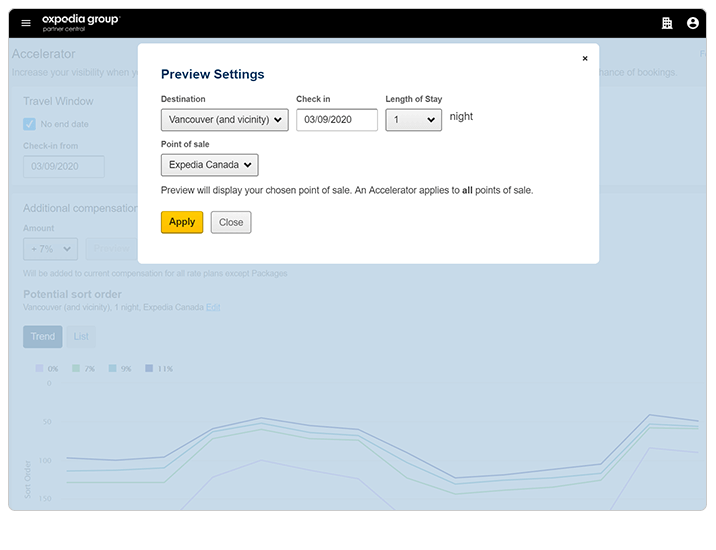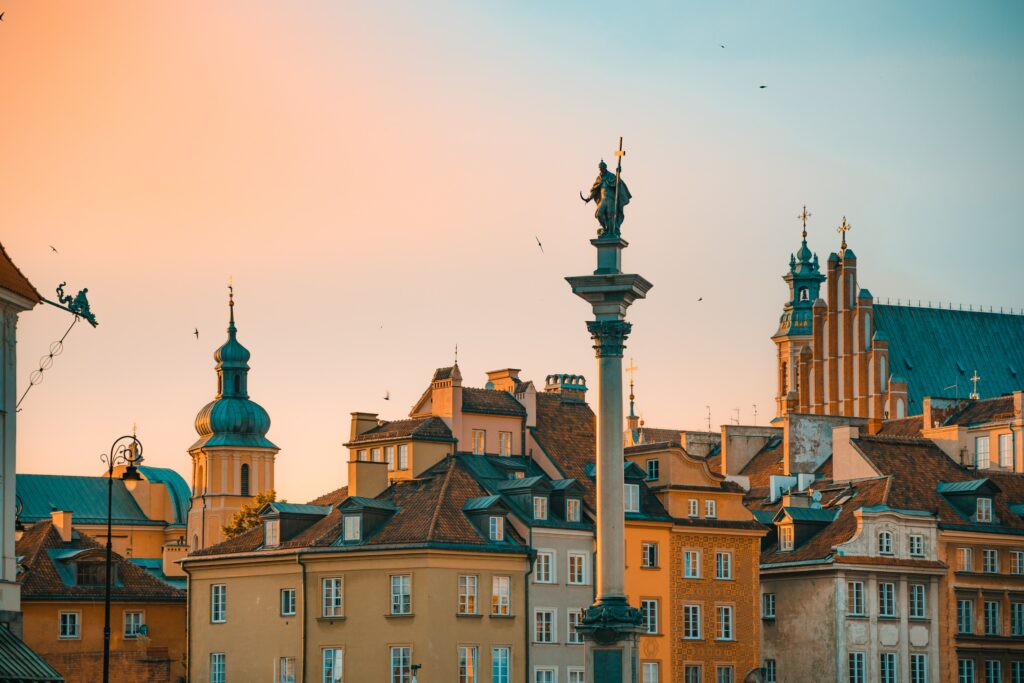 Hotel advertising that can reach any traveler, anywhere
Travelers looking to book a hotel use multiple channels to find their ideal place to stay, from social media to travel websites, and more. This is why it's imperative that you know when — and where — to reach the right traveler. Whether you're trying to reach early-bird or last-minute bookers, our targeting capabilities can help you connect with the right traveler at the right time.
Optimize your Accelerator campaign
Pair with TravelAds
If consistent visibility is your main goal, we recommend also usingTravelAds Sponsored Listings, another Media Solutions tool that ensures continuous visibility and offers more advanced targeting options.Hotels have seen great success using the two solutions together,like Dreams Jade Resort & Spa, which saw more than a105% increase in page viewsduring their TravelAds and Accelerator campaigns. 

Track performance
It's important to ensure your advertising campaign is performing to meet your goals. Once your Accelerator campaign is live, you can use analytics to track performance and optimize your marketing strategy for better results. Tracking page views and impressions allows you to compare apples to apples with other performance-based marketing or advertising programs. Remember that you don't pay for page views and impressions — you only pay for Accelerator when you get bookings.  
Modify your Accelerator
You can adjust your Accelerator when you see changes in your market, such as an increase or decrease in occupancy or compression.
Consider sort order
The highest spots in the sort are the most powerful. To generate the best results, keep in mind that the higher you move up, the more likely you are to get bookings.
Optimize for specific markets
In the preview tool settings, you can adjust your targeted markets to see the impact in a specific area. This is helpful if you're focused on being at the top of the search sort in a particular market.
Use the preview dashboard
The preview dashboard can help you dial in the best settings and shows you how your Accelerator should perform based on your settings. Play with the settings, set different dates, or adjust markets and compensation levels to see which combinations have the most impact.
If you're looking for ways to increase your listing's visibility on Expedia Group sites, Accelerator offers easy setup and maintenance, and its pay-per-stay model is cost effective and budget friendly.
Learn more aboutAcceleratororlog in to Partner Centraland create a campaign today.