November 21, 2022
At Expedia Group Media Solutions, we're continuously growing and innovating to help our travel partners around the globe reach, engage, and convert travelers. The latest innovation we're excited to introduce is a new and improved Native Advertising portfolio. In our last post on this topic, we discussed the importance of native advertising in general. In this post, we'll dive into the specifics of what makes our Native Advertising solution unique.
What is native advertising?
As a reminder, native advertising is a form of advertising that matches the look and feel of the page it appears on. It's considered non-disruptive marketing because its appearance and position on the page is in line with where a consumer's attention is focused.
According to research from FreakOut, the leading native advertising provider in Asia, travelers prefer to be engaged with native advertising more than banner ads or widgets. This preference is supported by our own data that shows engagement with native ads is higher than that of standard IAB ads. We've also seen a double-digit increase in click-through rates when a campaign includes native advertising.

What makes our Native Advertising solution unique?
At Media Solutions, we have insights into the who, when and how. We can connect you with travelers at the precise moment they're actively shopping for travel and show up in a non-disruptive and contextually relevant manner.
We chatted with Chris Maly, director of product management for Media Solutions, for more information on how native advertising helps address the needs of travel shoppers and our advertising partners.
"Our native ad products align with where travelers are in their travel shopping journey," he says. "On our home screens, we can provide inspirational travel content from DMOs about where a traveler should go to next or about a place they have searched for in the past."
"If a traveler is looking for a flight, we can provide them with content from our airline partners that explains the difference between economy and economy plus fares. All our products are built to help our partners drive additional sales for their products on Expedia Group brands."
At EXPLORE 22, we talked about our focus on putting travelers first. That's why we're constantly taking steps to improve onsite experiences, ensuring we're engaging with travel shoppers in the way they want to be engaged with.
This means delivering content that is relevant, inspirational and consistent. With our native advertising offering, travel marketers can influence and inspire travelers with ads that are seamlessly integrated into the travel shopping experience across our sites.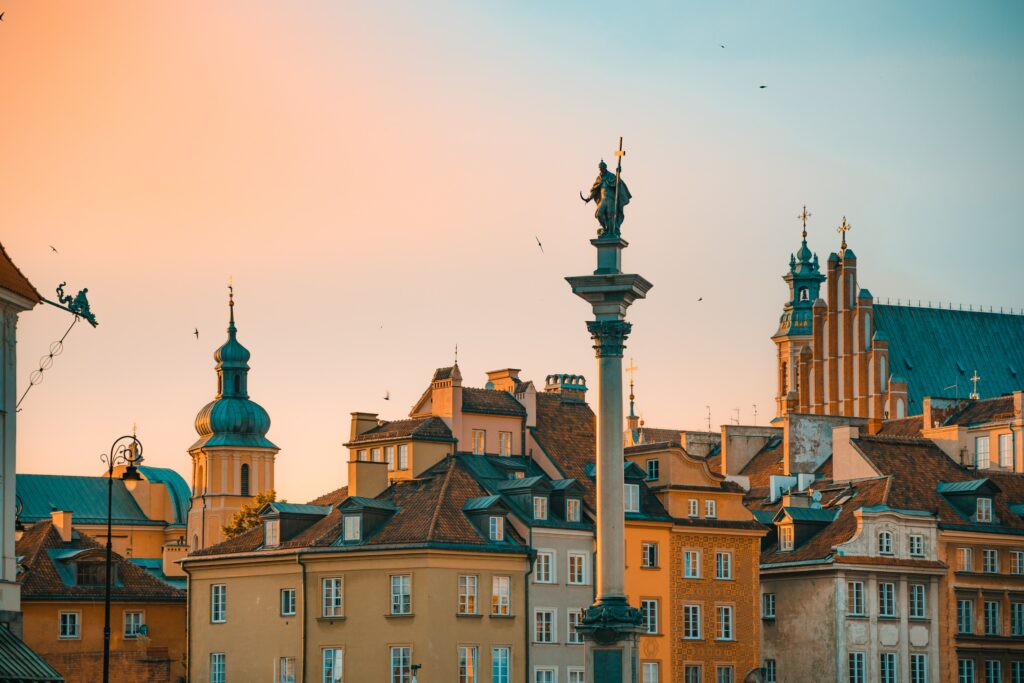 Hotel advertising that can reach any traveler, anywhere
Travelers looking to book a hotel use multiple channels to find their ideal place to stay, from social media to travel websites, and more. This is why it's imperative that you know when — and where — to reach the right traveler. Whether you're trying to reach early-bird or last-minute bookers, our targeting capabilities can help you connect with the right traveler at the right time.
What native advertising placements do we offer?
We offer a variety of native advertising placements, on both Expedia Group homepages and search results pages. This includes marquee cards, tile showcases, brand results listings, and the destination experience gallery. Because we're always looking to expand our portfolio with new placements and platforms, this is not a comprehensive overview of all the options we provide.
Here's an example of a homepage with a marquee card and a tile showcase highlighted: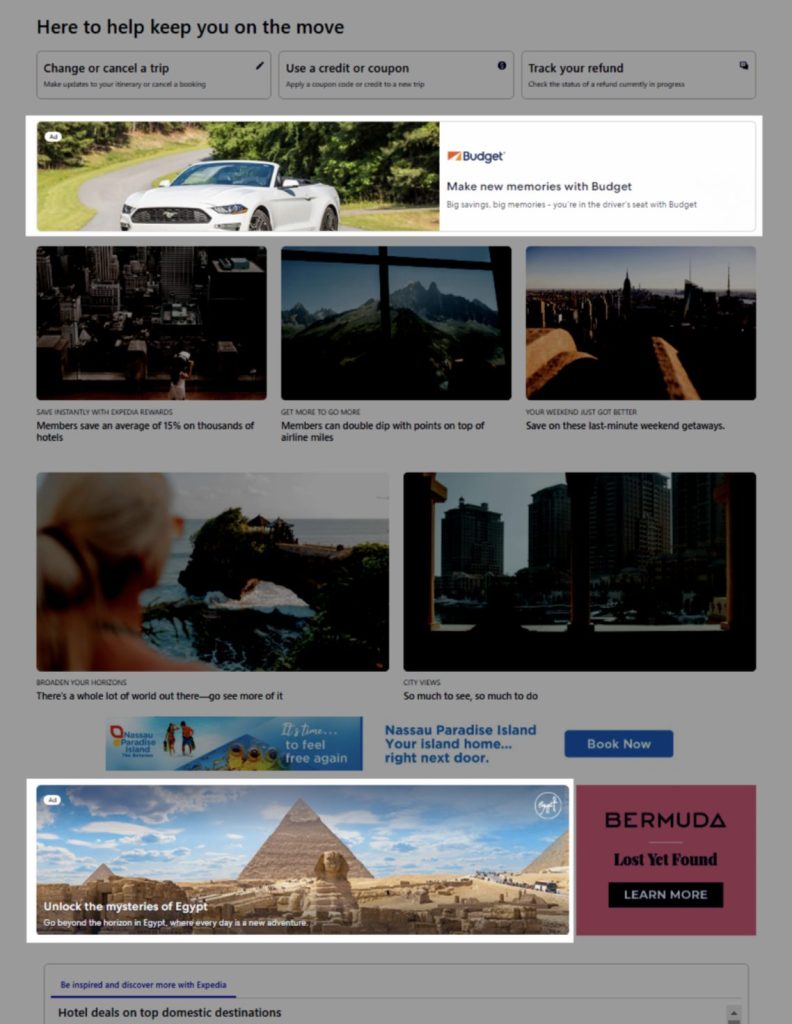 To help you determine the most impactful placement, landing page and timing, we'll leverage our powerful first-party shopping behavior data. Our product team will look at the data and work with you to help decide the best placements for your campaign.
The result is native advertising that has been specifically and strategically designed and placed to help you meet your marketing goals.
VisitScotland finds success with native advertising
VisitScotland is a destination marketing organization (DMO) that found success with our Native Advertising offering.
After borders reopened, the DMO turned to Media Solutions to drive awareness with international travel shoppers. It chose a Native Marquee for U.S. and German homepages and native placements on hotel search results pages.
The native ads had strong click-through rates (CTR), which supported the overall performance of the campaign. These ads also boosted engagement on the campaign's Travel Spotlight landing pages. In the end, the campaign saw an impressive return on ad spend of 80 to 1.
To learn more about our Native Advertising portfolio and other solutions, contact us today. You can also download our Q4 2022 Traveler Insights Report that has actionable insights to help inform your marketing strategy.