October 14, 2020
Cyber Monday rose to prominence as the virtual counterpart to Black Friday, drawing in record-breaking ecommerce numbers each year – most famously – for the purchase of physical retail items.
According to Forbes, Cyber Monday sales spiked nearly 19 percent in 2019 from the previous year, with businesses raking in a grand total of $9.4 billion. This meteoric success was most commonly attributed to items like VR devices, Nintendo Switch, and Apple laptops.
What may be less obvious—especially in light of the COVID-19 pandemic—is that many people are interested in buying experiences in addition to, or even in place of things. In fact, as the travel industry recovers, travel shoppers are beginning to transition from a dreaming and inspiration phase to actively looking and booking. Following months of staying in place, people are even more eager to travel once again.
Due to this pent-up demand, we are seeing green shoots appear in many areas of the world, and both searches and bookings continue to increase as people seek safe and responsible travel. This trend reveals a key opportunity for travel marketers throughout the holiday shopping season, particularly on Cyber Monday and Travel Tuesday.
Travel Tuesday has rose to prominence in recent years. Held the day after Cyber Monday, Travel Tuesday has been described by Good Morning America as "shaping up to be one of the best days of the year to book everything from airfare to beach vacations to educational tours of far-flung destinations."
While 2020 has been unlike any other year, consumers are still expecting to find holiday travel deals online. This means the holiday shopping season is an ideal time for travel marketers to boost sales.
What do Cyber Monday and Travel Tuesday mean for travel marketers?
Cyber Monday and Travel Tuesday shoppers are often thought of as purchasing physical possessions, so it's easy for travel marketers to miss the key advertising opportunity these holidays provide, especially following this year's decrease in travel. Yet, taking advantage of the holiday shopping season offer can yield significant results. According to the Washington Post, now is an opportune time for travelers to book upcoming travel. This type of coverage, combined with pent-up demand and the approaching holiday season, provides travel advertisers a unique opportunity.
In fact, according to a study conducted by Expedia and the Center for Generational Kinetics, 74 percent of Americans prioritize experiences over products. Our Multi-National Traveler Trends study also identified that individuals prioritize activities and experience above all else when deciding on travel.
As for why, it could be that while trends on popular, must-have items inevitably fluctuate, the desire for lifelong memories remains consistent. While devices come and go, the experiences of exploring a fortress in Serbia, or tasting the unique regional cuisine of Puglia, or discovering the pristine deserts and beaches of Egypt are arguably much more lasting.
Evolving Traveler Preferences: How to Effectively Connect with Audiences
Consumers have been dreaming of travel for months and are eager to return to travel in a safe and responsible way. Travel shoppers will be all the more compelled to book if they see the right deal as well as the right message.
Travel shoppers have increased expectations for cleanliness and want to know about precautions before they book. During the 2020 holiday shopping season, travel advertisers can rebuild trust by providing messaging to travelers that addresses health and hygiene.
While there has been an increase in both international and domestic travel searches, travelers are currently showing preference to travel domestically. Advertisers can successfully align to this preference during the holiday shopping season by running domestic campaigns and targeting travelers who are within a few hundred miles.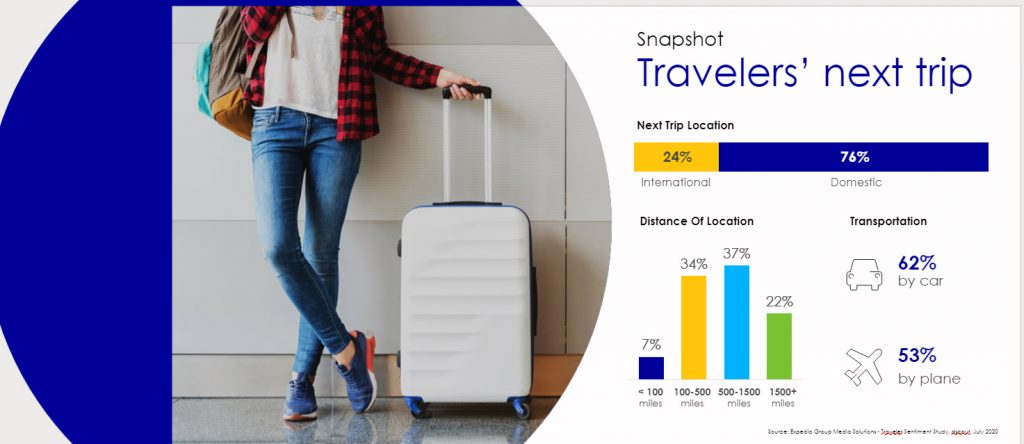 Advertising Solutions
Advertisers can inspire our highly engaged and highly qualified travel shoppers across the Expedia Group family of brands. We offer a variety of tools travel advertisers can use to capture attention of travel shoppers. Big Commerce highlights email marketing and social media marketing as especially effective solutions for advertisers looking to connect with audiences during the holiday season.
In addition to email sponsorships and social media marketing, we also provide:
In addition to the above, there are a variety of solutions advertisers can use during this holiday season to stand apart from the competition and reconnect with travelers in a conscientious, responsible, and effective way.
Learn more about how to reach travelers who have been dreaming of their next vacation.