Social Media
With social media, you can engage an affluent audience and create a dialogue about your branded content. Promote your content and grow your social following through co-branded promotions, and more.
Power Your Campaign with Social Media
Expedia Group's social media goals are the same as our partners: grow business and build relationships. With social media, we allow travelers to self-select their own experiences. We provide the ability to bridge media, gain feedback, iterate and connect to travelers following Expedia Group in an authentic manner.
Social Media Products
Facebook
Instagram
Twitter
Viewfinder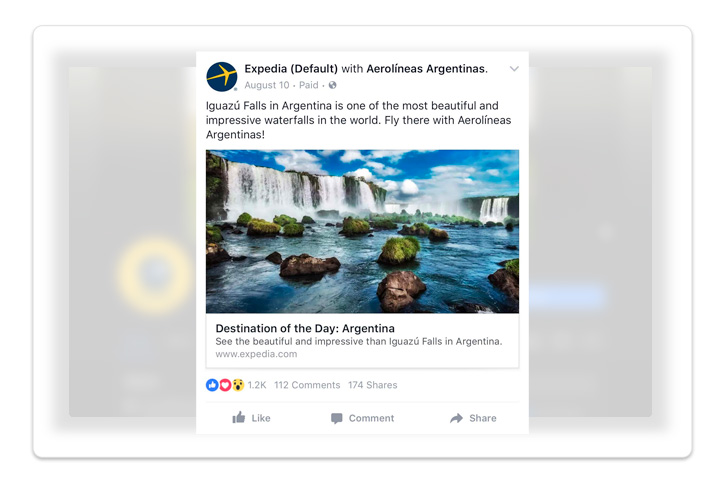 Facebook
As the leading social platform, brands have the opportunity to reach our large global following of qualified travelers with intent to travel. In addition to providing inspiration and education, we can provide travelers with a purchase path and close the loop from discovery to booking.
Travelers spent 5x more time on Facebook than on travel-related apps, sites and searches.*
People are 80% more likely to book a trip from a friend liking a Facebook page compared to a traditional advertisement.**
53% of Inspired Travelers say they found ideas for their most recent trip on Facebook.*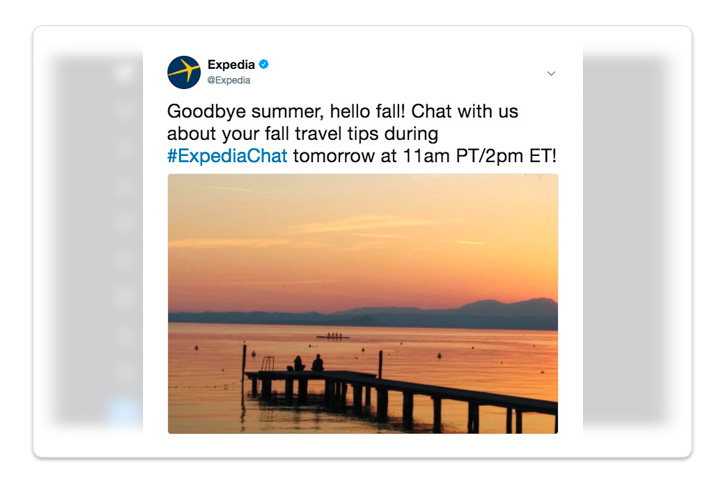 Twitter
Engage directly with consumers keen to have an active dialogue about your brand and share their travel experiences.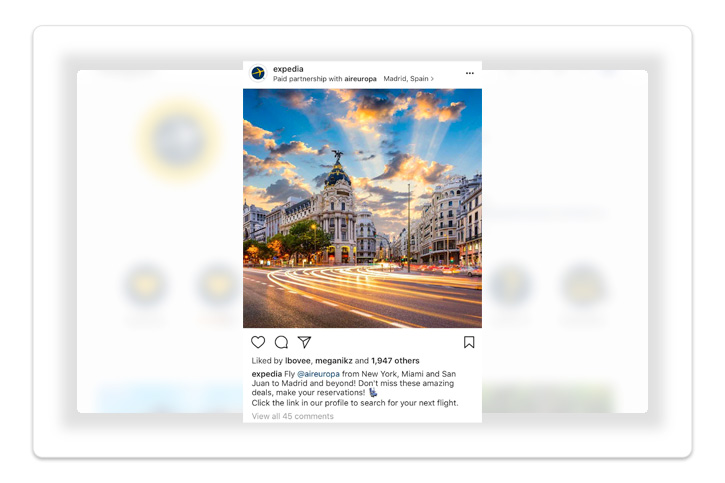 Instagram
Instagram offers a platform to share your brand with travel enthusiasts and qualified travel bloggers and photographers in an engaging and visual way. Additionally, Instagram Stories has surpassed Snapchat's daily users, making it a powerful storytelling tool.
96% of travel respondents say they turn to Instagram because it encourages them to fantasize about visiting exciting places.*
61% of travel respondents find things to do on Instagram when traveling to a new place.*
In a typical week, nearly 1 million unique users search for travel-related hashtags on Instagram in the US.*
*Source: Facebook IQ Sources 2015-2016
**Source: Facebook Travel Study November 2013
***Source: We Are Social and Hootsuite "Digital in 2017 Global Overview" report
The Viewfinder Blog
Add credibility and build confidence in your brand by developing authentic third-party content in partnership with travel bloggers and knowledge experts within their respective demographics
Engage with Expedia's Viewfinder Blog today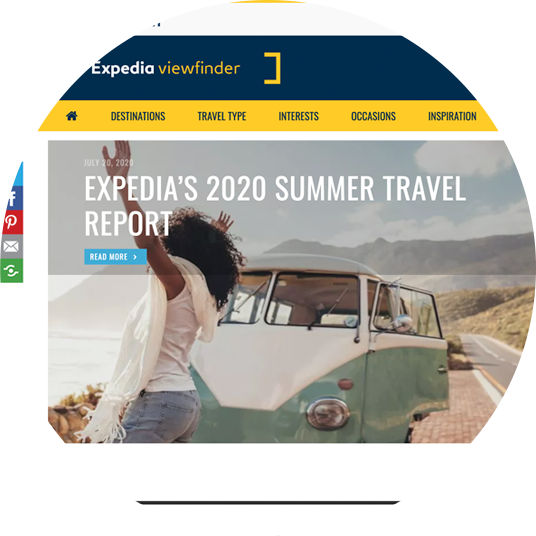 Social Media Available On:

Connect with our digital media consultants to learn how to best engage, influence, and convert your target travel audience.