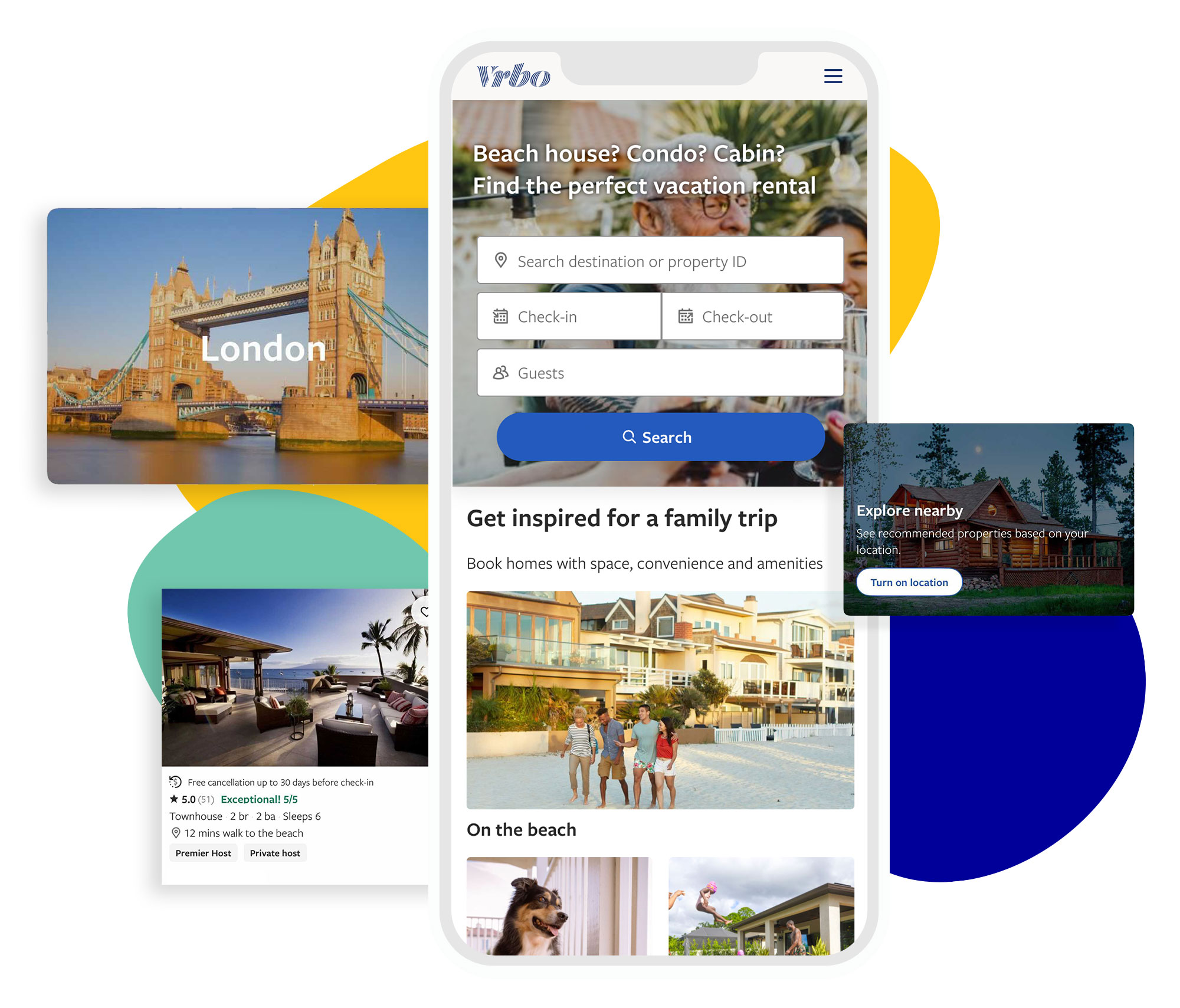 Reach families and groups of friends
Vrbo is where millions of families and groups of friends come to search for the perfect place to stay for their next vacation. It's an engaged audience, keen to travel and prepared to book big for an unforgettable group stay.
42 million
Monthly Worldwide Unique Visitors*
480 million
Monthly Worldwide Page Views*
---
The Vrbo audience
The Vrbo traveler tends to stay longer and spend more than other travelers across Expedia Group brands. It's an audience that books stays for their families or groups of friends in high-value transactions, and looks for travel experiences they can share together.
Spends More
5X more than other traveler types
Books for more people
2X more than on other trip types
Stays Longer
3X longer than other traveler types
---
About Vrbo
Vrbo is one of the world's only major short-term rental platforms that offers advertising
Born in 1995 as Vacation Rentals by Owner, Vrbo has been pairing homeowners with families and groups of friends looking for places to stay ever since, growing into a trusted global service with a unique selection of over 2 million holiday homes around the world.
For travel shoppers around the world, the Vrbo family of brands are the go-to option to book vacation homes, cabins, cottages, and condos.
---
The Vrbo Family
Vrbo's global family of brands includes Arbritel in France, FeWo-direkt in Germany, Bookabach in New Zealand, and Stayz in Australia.

---
Infographic
Want to learn more about Vrbo?
Check out our Vrbo infographic to understand more about the brand and its audience, including some of the Vrbo travel shopper's key traits.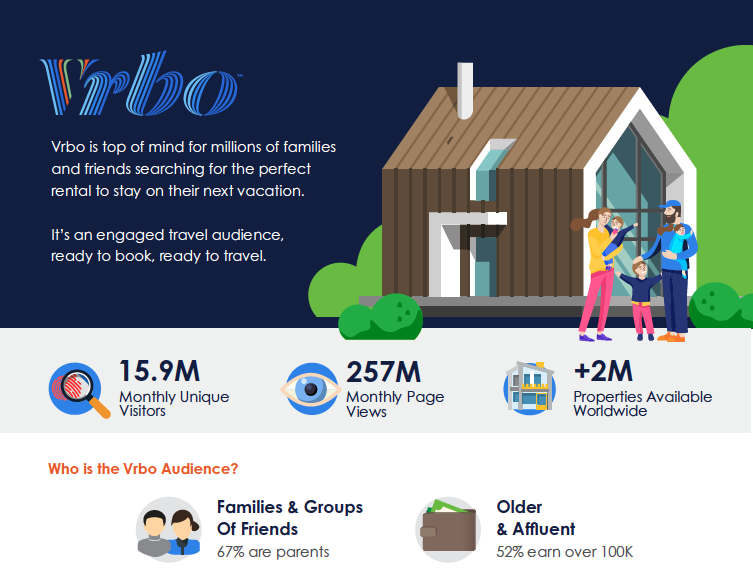 ---
The latest from Vrbo
Read on to learn about the latest news and traffic-driving activities
Vrbo Reunions, starring John Legend
but didn't reveal that their co-stars for the video would be the loved ones they had been separated from and missing throughout the pandemic.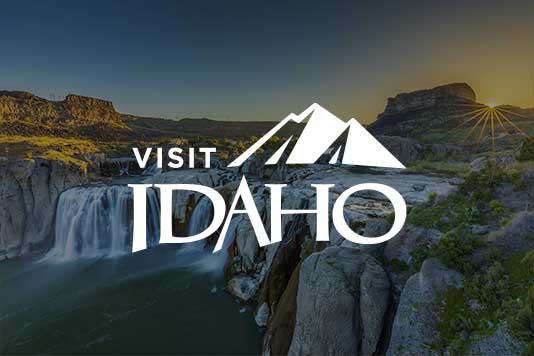 Learn how Visit Idaho raised awareness and reignited traveler interest
Following a drop in travel demand due to the COVID-19 pandemic, Visit Idaho wanted to raise awareness and reignite traveler interest by keeping Idaho front and center in travelers' minds as they prepared to travel again.
---
Drive brand awareness and conversion
Our advertising solutions on Vrbo adapt to your needs, whether your objective is building brand awareness or driving conversions.
Audience Extension
Stay top of mind with travel shoppers and engage with them, no matter where they are online.
Display Advertising
Raise visibility and engage highly qualified travel shoppers with Display Advertising solutions.
---
Discover more audiences
Take a look at our other brands to find out how you can reach other traveler types.
---
*Based on Expedia Group Omniture data (Monthly average figures between July-December 2021)
*Vrbo Internal data, 2020

Connect with our digital media consultants to learn how to best engage, influence, and convert your target travel audience
*Expedia Group, TravelAds and Accelerator incrementality data, 2022